Description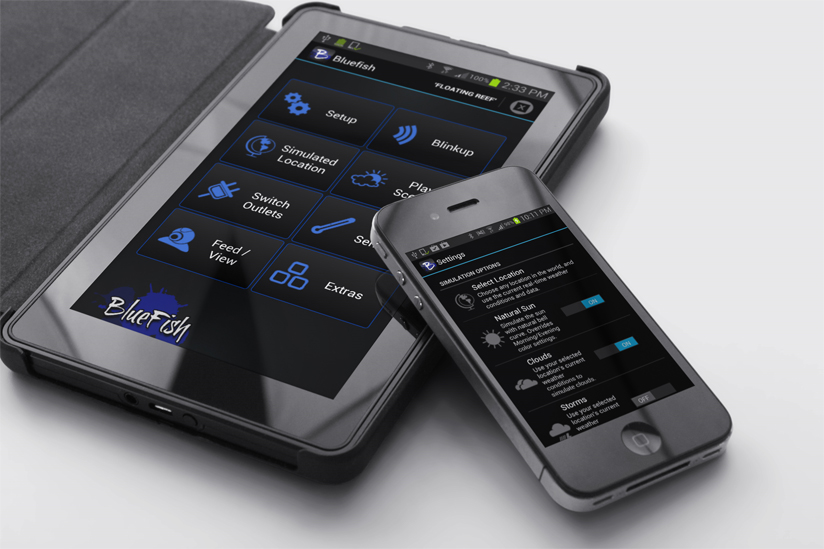 This product requires a subscription.  Click here for details.


Built-in Wi-Fi connection means you are up and running in a snap.  No messing with long runs of ethernet cable or finicky Wi-Fi gateways.  The cloud connection means your device is instantly accessible from anywhere, with no router configuration necessary.


Bluefish is the most versatile lighting controller on the market.  It can output 0-10V, 0-5V, 5V PWM, and 10V PWM.  Each channel is independently configurable.  Voltage selection is made by hardware jumpers, and PWM on/off is an app setting.
Bluefish can directly control:
Mean Well LDD Drivers for DIY LED setups
All Mean Well Dimmable LED Drivers for DIY LED setups
Nano Box LED Fixtures (all models)
Anything that accepts a 0-10V, 5V PWM, or 10V PWM signal!
*Please note that some features may be limited by your LED product or driver because of dimming limits or slow responsiveness.  For DIY LED builds, we highly recommend Mean Well LDD drivers to get full functionality from your controller.
and paired with the Power Dimmer accessory, you can control:
Ecoxotic Stunner LED strips
Ecoxotic Panorama Pro LED modules
Current USA TrueLumen LED strips
Current USA  Orbit Marine fixtures


Bluefish makes it easy to replicate the lighting conditions of any location, using actual weather data in real time! Just choose a city, and optionally use the current weather conditions (clouds, storms, etc), sunrise/sunset times (dynamic photo-period), and moon phase!  Powered by Wunderground.com


Bluefish simulates unique cloud cover patterns using the current weather conditions from your simulated location.  Unique weather conditions include clear, partly cloudy, mostly cloudy, scattered clouds, rain, haze, overcast, and thunderstorm.


Integrate the video feed from webcams directly into the app! Check up on your tank, make changes remotely, or just have fun showing off….start a thunderstorm and watch the action from anywhere!


Start a thunderstorm from the app and lighting strikes are synchronized with audio from a real thunderstorm. Connect your phone or tablet wireless to a Bluetooth speaker for maximum effect!


Wi-Fi configuration is extremely quick and easy. Select your network, enter the password, then hold the screen of your mobile device to the sensor on top of the Bluefish device. Your mobile device sends the configuration by flashing the screen (think Morse code). In about 10 seconds, your Bluefish controller is online and accessible from anywhere. Absolutely no router configuration necessary! Programming your light schedule and customizing your channels is a snap.


Bluefish was created with your security in mind.  End-to-end SSL encryption protects your data from prying eyes, and your settings are stored securely in the cloud.


Not only is Bluefish an awesome lighting controller, it's also the base for a complete aquarium controller. Add-on devices connect to the main unit through the BluePort connector.  All accessible from anywhere through your mobile device!

6 channel output by 0-10V analog, 5V PWM, or 10V PWM via 3.5mm stereo audio connectors
• 802.11 b/g/n WiFi
• 20MHz 11n channels, 1 x 1
• +16.75dBm max output power (802.11b)
• -97dBm typical sensitivity (1Mbps)
• Integrated antenna with 2.5dBi max gain
32-bit Cortex M3 processor
Robust embedded operating system with fail-safe automatic firmware updates
4096 steps (12-bit PWM) of individual LED brightness control.
Op-amp and low-pass filter (software-selectable) for linear 0-10v output
12V DC switching power adapter
BluePort expansion connector
128KB EEPROM
Overvoltage and overcurrent protection
Frequently Asked Questions
Q.  Is it necessary to have my Apple/Android device connected at all times in order for the controller to run properly?
A.  No, the app is required to change settings only.  It is not necessary to be connected through the app for the controller to function.
Q.  Can I use the app on multiple devices?
A.  Yes.  Your Bluefish controller settings are associated with your user account.  You can log in from any Android/Apple device with your username and password.
Q.  Can I mix lighting types?  PWM and 0-10V?
A.  Yes, each channel is independently configurable to be either 0-5V analog, 0-10V analog, 5V PWM, or 10V PWM.
User Videos: